Crisis Communication 101, feat. Bloom Communications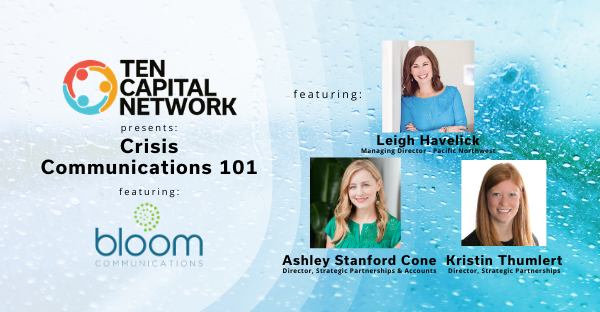 TEN Capital is proud to co-host our next Partner E-Series with Bloom Communications: Crisis Communication 101.
This E-Series will feature Leigh Havelick – Managing Director; Pacific Northwest, Ashley Stanford Cone – Director; Strategic Partnerships & Accounts, and Kristin Thumlert – Director; Strategic Partnerships.
What is a crisis? It is Any situation, event, or public initiative that negatively impacts a company's short and long-term reputation, daily operations, and financial performance. No two crises will be the same, but there are guidelines to follow should one occur. 
Join this interesting conversation to find out how you can be successful in managing a crisis.
This is an E-Series you do not want to miss!
Today there are many sources of venture funding and even more startups seeking funding. Funding is moving online, but it's important to stay connected to the community and share deal flow and best practices.